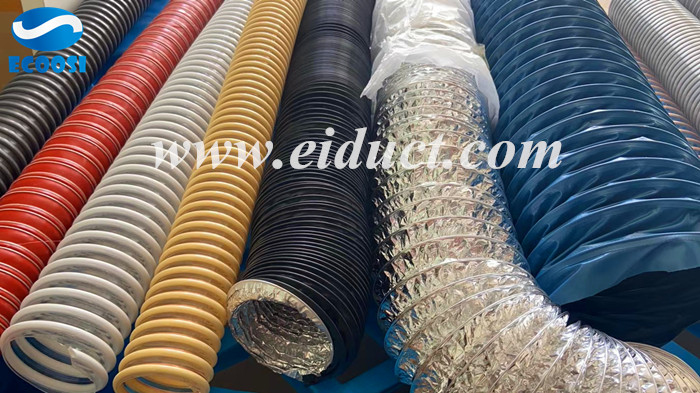 What is the advange of industrial plastic flexible ducting hose and how to choose the right ducting hose for your ventilation system?
Ecoosi industrial plastic flexible ducting hose has many advantages such as excellent resistance to corrosive properties of harsh chemicals, resistance to oxidation caused by moisture, as well as excellent crush resistance. We provide a wide range of plastic flexible ducting hose products made with polyurethane, PVC, Fabric, PP and thermoplastic rubber that are ideal for a broad range of applications as in moving ambient air, elevated temperatures, abrasives transfer and bulk material collection.
Ecoosi light weight plastic flexible hose perfect for the movement of ambient air that require the plastic hose to be moveable and flexible. Since plastics generally have high tensile strength, flexing and compressing the hoses will not cause flex fatigue. Plastics are far less prone to damage from everyday wear than competing rubber and/or fabric type hoses. For heavy-duty applications we have several plastic ducting options that offer excellent wear-resistance and durability to handle demanding applications such as transfer of abrasive material. Whether your uses are commercial or residential, know that plastic hose is a surefire way to fulfill your various ducting needs.
Ecoosi Polyurethane flexible ducting that exhibit the high quality characteristics of PU materials. Polyurethane has excellent abrasion resistance and will outperform rubber and plastic sometimes by a factor of as much as 5 to 1. For applications in which wear is a problem, switching to polyurethane flexible hoses can reduce the frequency of replacement. Additionally, many of our plastic ducting products can be outfitted with wear strips to increase their capacity to resist damage. This added protection ensures that your polyurethane duct remains strong and durable for as long as possible.
Ecoosi industrial ducting hoses are offered in a lots of colors. Several different colors are available for many of our plastic-hose products to meet your needs. With our wide range of plastic flexible ducting hose products we are certain to have a product that fits the demands of your applications.
If any interests in our plastic flexible hoses, please feel free to click contact us or through email: info@eiduct.com or Mobile(WhatsApp): 00-86-187-1155-3123, or our another website: www.ductinghose.com to contact us, we are always here to satisfy your requirement!