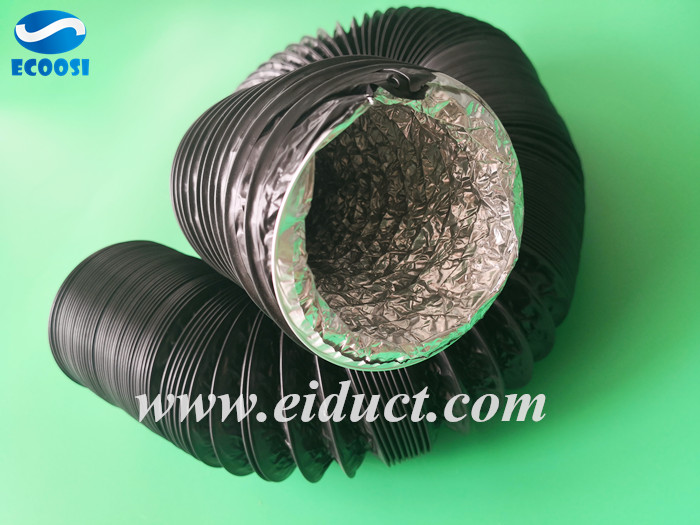 What is PVC aluminum flexible ventilation air duct hose and why it is ideal for smoke exhaust?
Ecoosi PVC aluminum flexible ventilation air duct hose is a high-quality and reasonably priced air duct hose, which provides an excellent choice for customers seeking air circulation solutions. This flexible ventilation duct hose is designed for air transmission and perform well in applications including air conditioning duct work. Ecoosi PVC aluminum flexible ventilation air duct hose is a versatile and flexible HVAC air duct that can be used in a variety of settings from residential to industrial applications.
When using equipment that emits smoke, it must have an effective smoke ventilation system. Insufficient flue smoke can bring many hazards, including harm to human health, damage to valuable equipment and potential fire hazards. Smoke exhaust is a vital industry. Namely industrial kitchens, auto repair shops and factories. Each of these areas is fully capable of generating a lot of smoke and heat. If left unchecked, smoke is an inconvenient and potentially dangerous substance in any environment. Whether you are generating smoke in a heating system, a car repair shop or a kitchen, it is vital that you have the correct flue to maintain a safe and comfortable area. So we developed this PVC aluminum flexible ventilation air duct hose to exhaust the smoke. It is made by PVC combined with aluminum and a layer of PET film and with a spiral steel wire to provide additional strength and support to the hose body. Inside the hose, the inner wall is covered with silver and aluminum.
Ecoosi PVC aluminum air duct hose has a double-layer PVC and aluminum body with multiple functions. First, it provides a high level of anti-noise and insulation. This insulation keeps the hose effective at extreme high and low temperatures, with a working range of -20℃ to +150℃. This means that the duct can support air movement in this temperature range. In other applications, this allows it to be used as an air conditioning duct or hot air outlet. The main body of the delivery hose is also very flexible, which can be twisted and manipulated into various shapes and narrow spaces according to project or application requirements.
Ecoosi PVC aluminum flexible duct can be effectively used in mobile or permanent installations. This HVAC air duct hose has excellent compressibility and are therefore easy to handle. The standard length of the hose is 10 meter, and the compression ratio is 10:1, which can be reduced to a small part of its fully stretched size. This makes it particularly easy to transport or store. Customers can also obtain this ventilation air duct hose in various diameter sizes. It provides 4", 6", 8", 10" and 12" 14" inner diameter measurement values, and provides black or grey color for you to choose.
If any interests in our PVC aluminum duct hose, please feel free to click contact us or through email: info@eiduct.com or Mobile(WhatsApp): 00-86-187-1155-3123, or our another website: www.ductinghose.com to contact us, we are always here to satisfy your requirement!