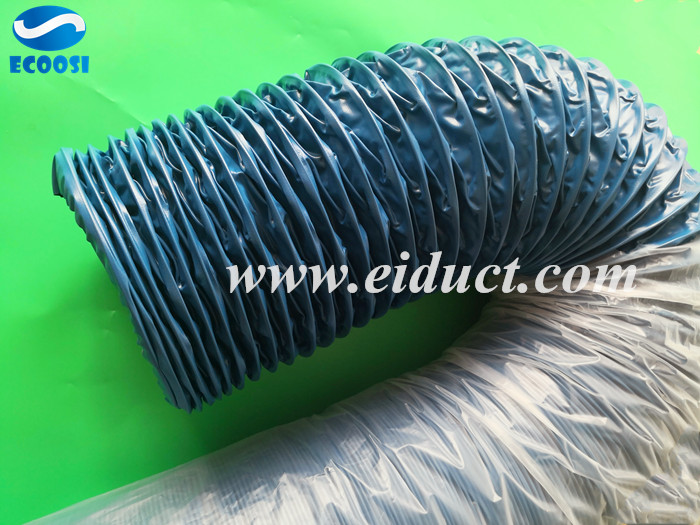 What is the applications of Ecoosi blue flexible flame retardant PVC fabric ventilation air duct hose?
Ecoosi blue flexible flame retardant PVC fabric ventilation air duct hose is designed for industrial air movement, dust control, and light bulk material handling applications. This flex ventilation air duct hose is available in a wide range of internal diameters. Otherwise known as I.D., internal diameter refers to the straight-line segment that passes through the center of the circle (i.e. the hose entry.) This hose can be ordered in I.D. sizes from 1.5 inches to 24 inches. The white flexible hoses are sold in standard lengths of 10 meters, although custom lengths are available upon request.
Ecoosi flame retardant PVC fabric polyester ventilation ducting hose is ideal for a variety of applications such as: dryers, fume exhaust, pollution control and even welding. This PVC ventilation blower duct hose is produced by PVC fabric coated polyester with spring steel wire. It is a super-light air duct hose and highly flexible and compressible 10:1. Ecoosi PVC fabric air duct hose also have good resistance to alkalis and acids, chemicals, UV and ozone.
Ecoosi blue PVC ventilation air duct hose could produced in different color, such as white, grey, black. This PVC flexible ventilation hose could handle working temperature range from –20℃ to +120℃. it is widely used in ventilation equipments as blower duct hose, welding gas extraction hose, air conditioning hose and fume exhaust hose, light duty dust extraction hose, and air movement hose.
If any interests in our flame retardant PVC fabric air duct hose, please feel free to click contact us or through email: info@eiduct.com or Mobile(WhatsApp): 00-86-187-1155-3123, or our another website: www.ductinghose.com to contact us, we are always here to satisfy your requirement!