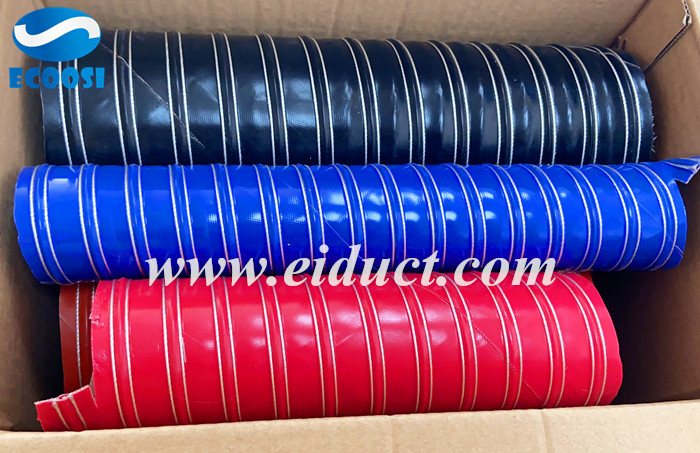 What is Ecoosi High Temp Two Ply Fiberglass Silicone Coated Duct Hose?
Ecoosi high temp two ply fiberglass silicone coated duct hose is a top quality silicone rubber duct hose. This flexible silicone duct hose is designed for High Temperature Air Flow and Fume Removal. As a suction air duct hose, especially ideal for transmission hot and air, chemical fumes and industrial fumes. And used for printing machines, blowers and compressors exhausting gas, engine construction, engine Warming, aircraft construction and military Construction.
Ecoosi high temperature silicone duct hose pipe is made by double layer silicone coated glass fiber fabric with spring steel wire and glass fiber cord, this high temperature duct hose could handle working temperature range from –70℃ to +310℃, so it is extremely good heat resistance. Its has a smooth interior and leak proof. And this silicone duct hose is highly flexible, small bending radius with kink-proof.
Ecoosi 2 Ply fiberglass siliconeduct hose could be produced in many different colors, such as red, blue, grey, orange, black and so on. This silicone 2 layer exhaust hose is available in size from 19mm to 305mm, standard length is 4 meters. Our hot air silicone duct hose could also used as air intake hose for racing cars brake cooling systems, it is extremely flexible and easy to install.
If any interests in our heat resistant two ply silicone air duct, please feel free to click contact us or through email: info@eiduct.com or Mobile(WhatsApp): 00-86-187-1155-3123, or our another website: www.ductinghose.com to contact us, we are always here to satisfy your requirement!