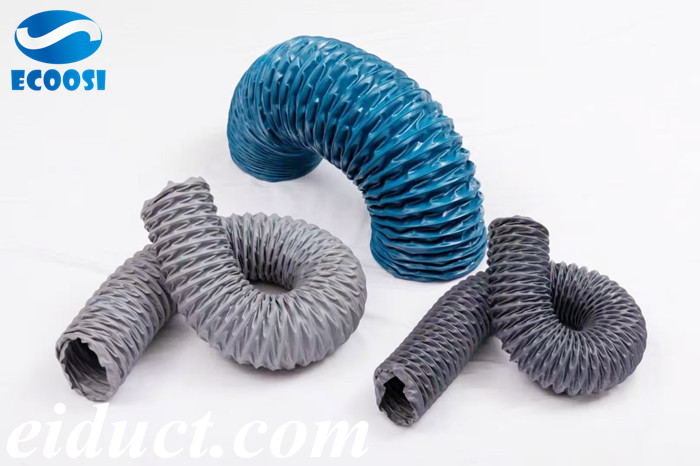 Industrial Ventilation Hose From Ecoosi Industrial Co., Ltd.
Ecoosi offers products designed for air ventilation systems, such as HVAC air duct in industrial buildings. Ecoosi offers large-diameter flexible ducting hose with custom lengths and ID sizes up to 40 inches! Our hoses are used in many applications such as ventilation ducts, dust collection hose, portable hose, exhaust duct hoses and woodworking hoses. Whether you are moving air, chemical fumes, abrasives, bulk materials or high temperatures, we can provide you with suitable hoses.
Ecoosi's industrial flexible

ventilation ducting hoses

also include many different types of hose materials, such as thermoplastic rubber, PVC, polyurethane, glass fiber, fabric and so on. By providing different types of industrial flexible ventilation ducting hoses, we strive to provide you with the most complete hoseline products so that you can make smart, cost-conscious decisions when you need industrial hoses equipment.
Looking for dedicated industrial flexible vent duct hoses or other flexible ventilation hoses to treat solid waste? Our flexible material handling hoses include all kinds of anti-static hoses, drying hoses, dust collection hoses, suction hoses and so on. Ecoosi's durable hoseline products also include curved flex duct hoses for use in high-temperature applications, as well as abrasive transfer in road sweeper and automotive vacuum.
Ecoosi's industrial flex ventilation duct hoses are of impeccable quality and guarantee for all our hose products, providing you with greater security for your purchase. Our in-house quality control is backed by our goal of providing quality customer service and transportation with every order.
If you any interested or questions about our industrial flexible ventilation ducting hoses, please feel free to click

contact us

or email: info@eiduct.com or Mobile(WhatsApp): 00-86-187-1155-3123, or our other website:

DuctingHose.com

, we are always here to satisfy your requirement!