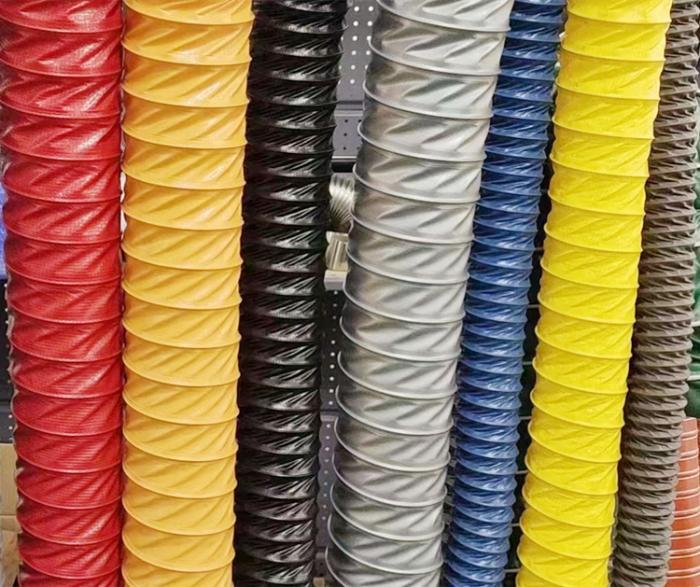 Fabric ducting is a flame retardant PVC coated fabric ventilation hose with spring steel wire designed for welding fume exhaust and HVAC systems and air movement.
Fabric ducting is a lightweight air hose, it is low cost and easy installation. Ecoosi's fabric duct hose is extremely flexible and compressible. Thanks to the flexibility of the lightweight fabric, our fabric hose products can be turned and maneuvered without kinking the hose and maintaining good airflow. For this reason, this flexible hose exhibit a great deal of flex fatigue. The lightweight construction of the hose also makes the ducting extremely compressible. Our fabric duct products feature compression ratios of 10 to 1 for easy storage and transportation. The compressibility of the ducting allows you to install fabric ducts that can be removed and moved as needed to meet the needs of your air and smoke applications. Size range from 51mm to 800mm. Colors available in grey, black, blue, and white.
Fabric ducting is a PVC-coated polyester vent hose, so it is resistant to harsh chemicals that may be transmitted through the ducts and improves the operating temperature range. This PVC fabric air hose could handle working temperatures ranging from –20℃ to +120℃. Don't worry about these commercial hoses getting damaged when used outdoors or in cramped, muggy conditions. An additional coating of the fabric hose can also give you additional resistance to any potential external wear. The PVC coating makes the hose more durable and increases the bending fatigue strength, allowing the hose to bend continuously without damage.
If you have any interest or questions about our air duct, duct hoses, flexible hoses, industrial hoses, or ventilation hoses, please feel free to click contact us or send an email to: info@eiduct.com or mobile (WhatsApp): 00 -86-187-1155-3123, or our other website: Ductinghose.com, we're here for you!