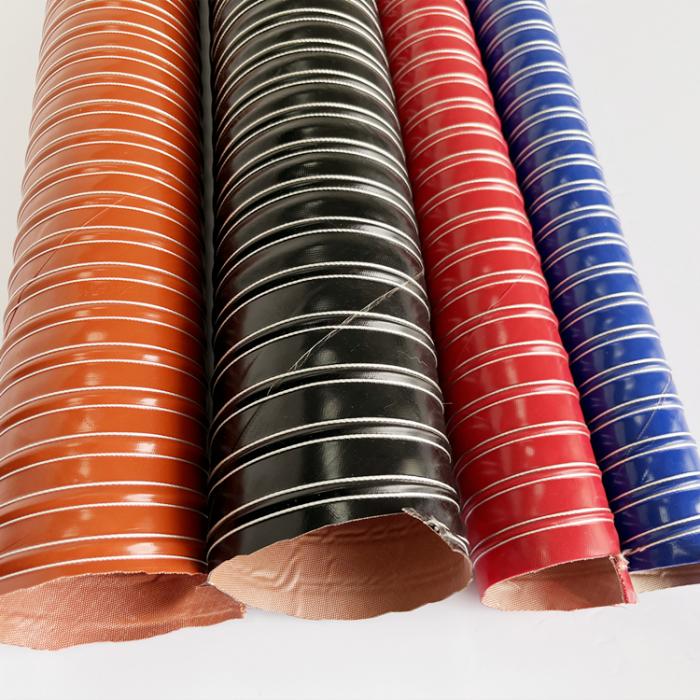 What is Silicone Ducting?
Silicone ducting is a double layer silicone coated fiberglass fabric duct hose with spring steel wire and reinforced with glass fiber cord. This ducting hose is designed for high-temp air handling applications that are ideal for plastic processing dryer operations.
Ecoosi's silicone high temperature ducting hose comes in a standard length of 4 meters and is available in red, orange, black, blue, green, grey color. This hot air duct hose is available in a wide range of internal diameter sizes from 19mm to 400mm. This flexible air ducting silicone hose is ideal used for aircraft, automotive, brake ducting, brick kilns, rocket support duct, tractor pull exhaust, transmission cooling and vehicle exhaust systems.
Silicone is a rubber-like elastomer mixed with carbon, hydrogen, and oxygen. Our high-temperature silicone ducting is made by combining fiberglass with silicone to provide flexibility and high-temperature resistance to the hose. This makes the silicone ducting hose highly resistant to chemicals and heat. These durable properties make silicone hose pipe ideal for a variety of ducting applications involving high-temperature air and smoke transmission.
Our silicone ducting hose have an excellent temperature range from –70℃ to +310℃. This excellent heat resistance makes the high temp silicone hose ideal for applications such as marine and automotive exhaust systems that require the delivery of hot air and fumes without damaging the hose material.
Ecoosi's silicone duct hose is designed for handling hot air, steam and toxic fumes, but this is an area where silicone has an advantage over other hose materials. Silicone is one of the best materials for high temperature ducting. This ability allows silicone ducting to remain effective even if they are in a hot environment or have extreme heat passing through them. Another area where silicone hose excels is handling corrosive air, fumes, and chemicals, which can be harmful to other flexible hoses. In some cases, having this resistance is crucial. For this reason, silicone ducting is very popular among companies that require equipment for industrial environments and professional applications.
Ecoosi's silicone ducting is 2 Ply fiberglass fabric reinforced. These enhanced hoses typically have greater capabilities, makes it difficult for even the most damaging abrasives to puncture or tear the hose. Additionally, its longevity and resiliency make silicone ducting ideal for long-term installations and sensitive areas where immediate repair and maintenance may not be possible.
Silicone ducting is a great ventilation hose for consumers who need constant, consistent airflow through their flexible ductwork. This flexible air hose that has a narrow pitch for flexible venting. This allows the hose to offer a tight bending radius that is non-kinking while maintaining a smooth airflow. Their anti-kink properties prevent the twisting of the hose material itself. This feature also helps prevent clots and blockages from forming along the length of your silicone hose, making them fully capable of delivering the constant and reliable airflow you need. The anti-kink properties also help ensure the longevity of the ducting, yet allow them to remain intact and functional.
If you have any interest or questions about our air duct, duct hoses, flexible hoses, industrial hoses, ventilation hoses, please feel free to click contact us or send an email to: info@eiduct.com or mobile (WhatsApp): 00 -86-187-1155-3123, or our other website: Ductinghose.com, we're here for you!