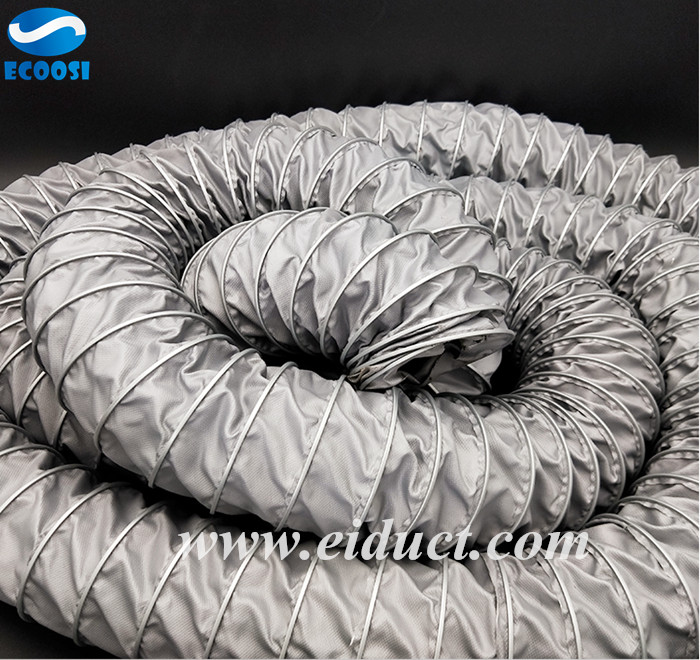 How about the manufacturing process and performance of the Ecoosi flexible high-temperature resistant air duct?
Ecoosi flexible high-temperature resistant air duct is made with innovative technology. This high temp duct has high flexibility, light volume, high-temperature resistance, abrasion resistance, positive and negative pressure resistance, acid and alkali resistance, and flame retardant. High-cost performance; anti-vibration; external wear protection through the spiral wire, good alkali resistance and acid resistance, strong toughness, convenient transportation and storage (foldable), long service life, etc. Our flexible high-temperature resistant air duct is made of high-quality glass fiber coated fabric as the raw material and is covered with high-quality stainless steel wire as the support.
Ecoosi flexible heat resistant air duct hose means the ducting that can be compressed and elongated. Some high-temperature-resistant ducts cannot be stretched and can only be bent. They must be flexible in certain scenarios. The flexible ventilation duct, or in order to not occupy space, can be retracted when not in use. In addition to being more convenient to use, the transportation cost of the retractable high-temperature resistant air duct is also relatively low, because it can be compressed and takes up less space.
Features: Good heat resistance, high stretchability, and a compression ratio of 10:1. The spiral wire is used for external wear protection. The external steel wire clamps the pipe wall tightly. The bending radius is small and it is not easy to kink.
Structure: External spiral galvanized steel strip or stainless steel strip
Raw materials: stainless steel spiral wire reinforcement, special glass fiber coating fabric, spiral wire: galvanized steel; stainless steel strip
Temperature range: about -60 °C to +400 °C, it can reach +450 °C in a short time;
High temperature resistant flexible air duct hoses have been widely used in industrial production, which completely solves many problems of traditional flexible hoses. In modern industrial production, we often use flexible hoses, which replace traditional copper-zinc alloys. Bellows or steel pipes. High-temperature resistant air ducts can work efficiently at high or low temperatures and are widely used in petroleum, chemical, engineering machinery manufacturing, coal mines, shipbuilding, aviation, automobiles, medical equipment, and other industries. They are used for conveying various gases and powders and are used in negative pressure Under the circumstances, the ideal flexible hose for ventilation and air exchange.
If any interests in our High temperature resistant flexible air duct hoses, please feel free to click contact us or through email: info@eiduct.com or Mobile(WhatsApp): 00-86-187-1155-3123, or our another website: www.ductinghose.com to contact us, we are always here to satisfy your requirement!