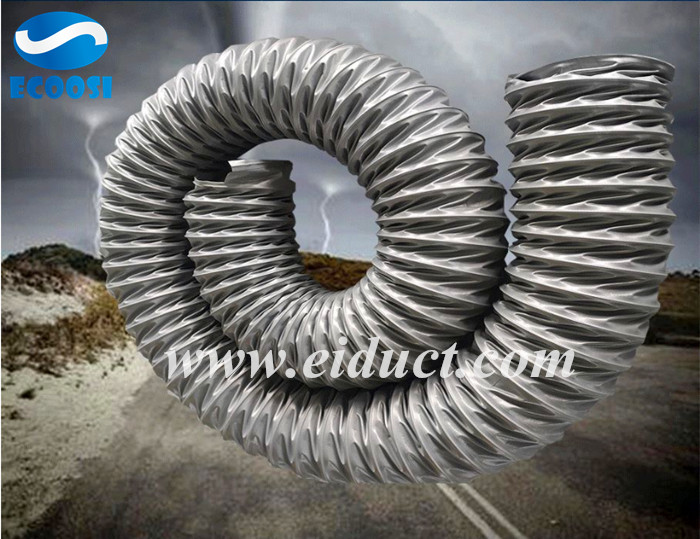 Why you should choose the Ecoosi lightweight flame retardant PVC flexible polyester fabric air duct hose for your ventilation system?
Ecoosi PVC flexible lightweight air duct hose is made from durable flame retardant PVC coated polyester fabric with spring steel wire. This flexible ventilation hose can be used in a variety of industrial air movement and blower applications. Each flexible duct hose has been reinforced with a spring steel wire helix for added strength and flexibility.
Ecoosi flame retardant PVC coated polyester fabric flexible ventilation hose is lightweight and very cost effective. The standard length of this ventilation hose is 10 meters, size range from 51mm to 400mm, different colors (white, blue, black, grey) and length could be customed. And this PVC flexible duct is extremely compressible, 10 meters could compress to 1 meters, so it is very easy and convenient to transport and stock.
Ecoosi PVC flexible duct hose could used in applications such as : Air Duct Cleaning, A/C Ventilation, Blower Hose, Cold Air Supply, Confined Space Ventilation, Dehumidification, Fans and Blowers, Flight Simulators, Function Tent HVAC, HEPA, Humidity Control, HVAC, Laser Engraving, Mining, Pet Training Hose, Rocket Support Duct, Safety Equipment, Smoke Ejectors, Utility Blowers, Ventilation, Wave Pool Blowers.
If any interests in our lightweight PVC flexible polyester fabric air duct hose, please feel free to click contact us or through email: info@eiduct.com or Mobile(WhatsApp): 00-86-187-1155-3123, or our another website: www.ductinghose.com to contact us, we are always here to satisfy your requirement!