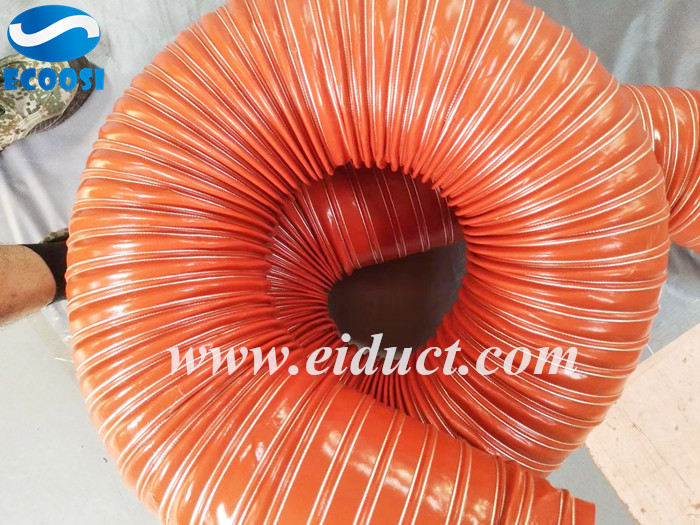 Why Ecoosi double-wall silicone brake duct hose is ideal for high temperature applications such as brake ducting?
Ecoosi flexible double-wall silicone duct hose is ideal for brake cooling ducts due to its high-temperature capability and extreme flexibility. Temperate ratings for the silicone duct hoses are 300 degrees continuous and 310 degrees intermittently. The hose features extreme flexibility with a spring-steel wire which supports the hose from collapsing.
Ecoosi flexible high temp silicone brake duct hose contains an inner supporting wire that is wrapped on the outside and inside for a smooth flexible hose. The outside also contains a high strength cord for an added layer of strength. The inner duct is smooth so you can use this for not only brake ducting work but also for engine intake plumbing as well. Great for replacing worn-out hose on our spindle ducts, or use it to plumb in custom ductwork for your own project!
Ecoosi flexible silicone brake ducting hose will keep your brakes cooler longer. This silicone high-temperature brake cooling ducting hose is produced for moving air from -70 deg. to 310 deg. Our silicone air ducting hose is very lightweight and extremely flexible. This high temp duct hose is especially for close-quarter applications where ducting has to snake around objects. Our silicone duct hose construction includes a fiberglass cord with high-temperature silicone rubber coated woven fiberglass fabric and bronze plated steel spring wire helix. Can be screwed together to form a continuous length. So this silicone air duct hose is ideal for applications where high temperatures exist such as brake ducting.
If you any interested in our flexible high temp double wall silicone brake air duct hose, please feel free to click contact us or through email: info@eiduct.com or Mobile(WhatsApp): 00-86-187-1155-3123, or our another website: www.ductinghose.com to contact us, we are always here to satisfy your requirement!