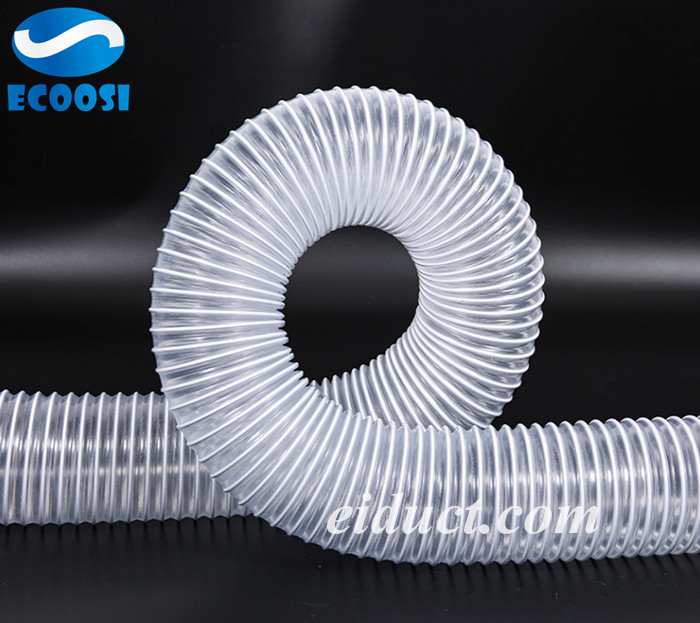 PVC duct hose,PVC ventilation hose, PVC steel wire hose, PVC clear hose,PVC flex hose
Ecoosi PVC clear duct hose with PVC coated steel wire, the outer surface of wrinkles, reinforced ribs in the form of external thread to reduce the contact surface in the ground such as wear rate, very light and good elasticity, High gas pressure resistance, and resistant to most chemicals. The wall is flame retardant PVC material, with a spiral steel coated plastic ribs. Anti-mechanical pressure, acid and alkali, with a very high softness. High flexibility for high vibration area!

Ecoosi PVC transparent flex hose with high quality PVC synthetic material embedded in hard plastic spiral skeleton, bending radius is small, itself has better resistance to negative pressure performance. Material is rich in anti-aging, anti-ultraviolet radiation of raw materials, has a high anti-aging properties.

Ecoosi PVC ventilation hose, light, transparent hose, with excellent weather resistance and high pressure-resistant performance. Suitable for industrial, agricultural and water conservancy, air conditioning and ventilation systems, can transport gases, welding fumes, dust (moderate wear), civil engineering vacuum suction powder, particles, transportation of water, oil and so on. Is the rubber hose, the high-quality metal hose substitutes.

Ecoosi PVC flex hose, PVC transparent steel wire hose structure: spiral flexible plastic coated plastic hose wall, the whole more solid stick. Light, steel wire, compressible, good resistance to alkali metal and acid properties, good chemical resistance, good resistance to ultraviolet and ozone performance. Bending radius is small, easy to kink, gas and liquid does not leak. Meet UL94-HB standards, in line with ROHS requirements, through the spiral wire grounding electrostatic discharge hose.

If you any interested or questions about our industrial PVC duct hose,PVC ventilation hose, PVC steel wire hose, PVC clear hose,PVC flex hose, please feel free to click contact us or email: info@eiduct.com or Mobile(WhatsApp): 00-86-187-1155-3123, or our other website: DuctingHose.com, we are always here to satisfy your requirement!