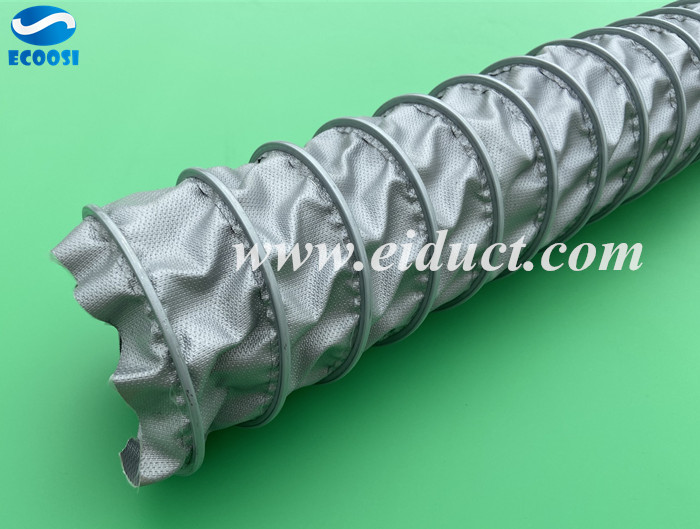 What is the application range of Ecoosi high temperature flexible ducting hose?
Ecoosi high temperature ducting hose is designed for long-term use and durability when exposed to elevated temperatures. The most important distinction that must be made is the determination of the maximum temperature to which a hose is exposed. This includes the media being moved through the flexible duct, as well as the temperature in and around the machinery in which a flexible hose is attached. In high temperature applications, it is essential that you have the proper equipment to handle the heat being applied to your equipment. Without high temperature ducting hose, extreme heat can cause permanent damage to the flexible duct, your ventilation system, and derail your project.
Ecoos high temp duct is made from double-ply silicone coated fiberglass fabric hose with steel wire. This flexible ducting hose could handle working temperature range from –80℃ to +400℃, short time to 450℃. It is ideal for applications involving automobiles, chimneys, steam work, and other extremely high temperature applications. Ecoosi high temperature ducting hose not only resistant to high volumes of heat, but also flame retardant.
Ecoosi clamped ducting is extremely flexibility and ease of transportation and storage. This flexible ducting hose also can be continuously flexed without sacrificing airflow. Except used in exhaust systems, this high temp ducting hose also could used in chimneys, furnaces, kilns, and in welding. Specifically, the welding process produces a relatively substantial amount of chemicals such as chromium. Left unchecked, the inhalation of these fumes can lead to severe health problems. However, by having high temperature ducting installed, you can markedly reduce the amount of welding fumes present during the welding process, dramatically increasing your overall safety and well-being.
If any interests in our flex high temp ducting hose , please feel free to click contact us or through email: info@eiduct.com or Mobile(WhatsApp): 00-86-187-1155-3123, or our another website: www.ductinghose.com to contact us, we are always here to satisfy your requirement!