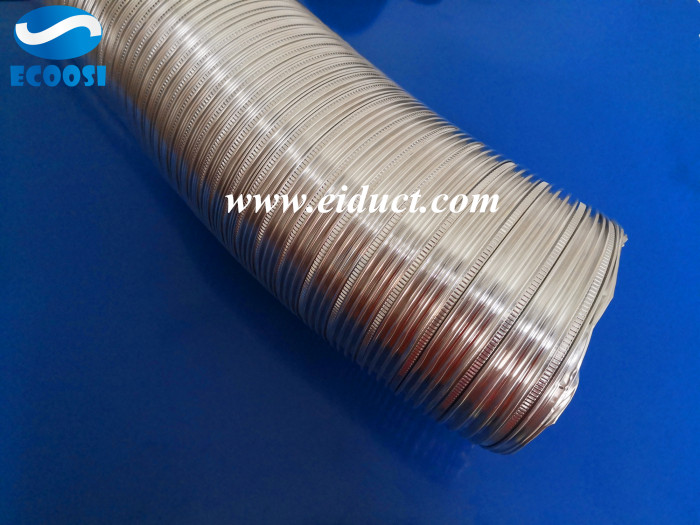 Ecoosi high temperature semi-rigid aluminum flex air duct hose is designed for extreme temperature applications.
Ecoosi high temperature semi-rigid aluminum flex air duct hose is ideal for transfer industrial air and fume. This aluminum lightweight hose could handle working temperature range from –70℃ to +250℃, so this aluminum duct hose is designed to working in extreme temperature applications. Ecoosi aluminum flex duct hose is produced to resist fatigue, weathering, and most corrosive fumes and chemicals. The Aluminum flexible duct is far more durable than other plastic hoses, even when corrosive fumes are present.
Ecoosi semi-rigid aluminum duct hose is lightweight, pliable and can easily be bent or manipulated by hand. Our aluminum lightweight ducting hose is self-supporting, which means the hose will maintain its shape when bent. This important attribute helps in the formation of elbows for easy bending and turning during the installation process. This same self-supporting construction allows any bends to remain in place without the use of additional support materials.
Ecoosi aluminum flex air duct hose standard length is 4 meter, size range from 51mm to 305mm. This high Temperature flexible air duct hose is ideal used in chemical fumes, circuit board cooling, exhaust systems, HVAC, oil mist removal, pollution control and ventilation.
If you any interested or questions about our flex semi-rigid aluminum air duct, please feel free to click contact us or email: info@eiduct.com or Mobile(WhatsApp): 00-86-187-1155-3123, or our other website: DuctingHose.com, we are always here to satisfy your requirement!