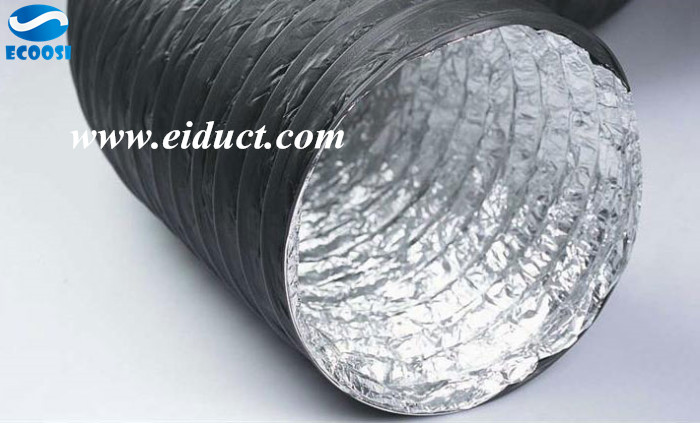 What is the applications of Ecoosi HVAC Ventilation PVC Aluminum Flex Air Duct Hose?
Ecoosi HVAC Ventilation PVC Aluminum Flex Air Duct Hose is a high-quality flexible ducting hose that is ideal for air movement solutions. This durable PVC Aluminum Air Duct is designed specifically for the transfer of air, and air conditioning duct work. This HVAC Ventilation Aluminum Hose is a versatile and flexible HVAC air duct which can be used in a range of different settings, from residential use to industrial applications.
Ecoosi HVAC Air Hose is produced by PVC and aluminum. The outer layer of the Ventilation Air Flex Duct is a PVC foil bonded with aluminum, with a wire helix winding through it to provide additional strength and support to the body of the hose. On the inside of the hose, the inner walls are covered with silver aluminum.
Ecoosi Ventilation Aluminum Air Duct Hose has a high level of noise and heat insulation. This insulation allows the PVC aluminum hose to remain effective in extreme hot and cold temperatures, with a working range from -20℃ to +150℃. This means that the flex ducting can support the movement of air within that temperature range. This makes it effective as an air conditioning duct or a hot air vent, among other applications. Our PVC aluminum ducting hose is also extremely flexible, allowing it to be contorted and manipulated into various shapes and tight spaces as required by a project or application.
If you any interested or questions in our flexible high temperature PVC aluminum duct hose, please feel free to click contact us or through email: info@eiduct.com or Mobile(WhatsApp): 00-86-187-1155-3123, or our another website: DuctingHose.com we are always here to satisfy your requirement!