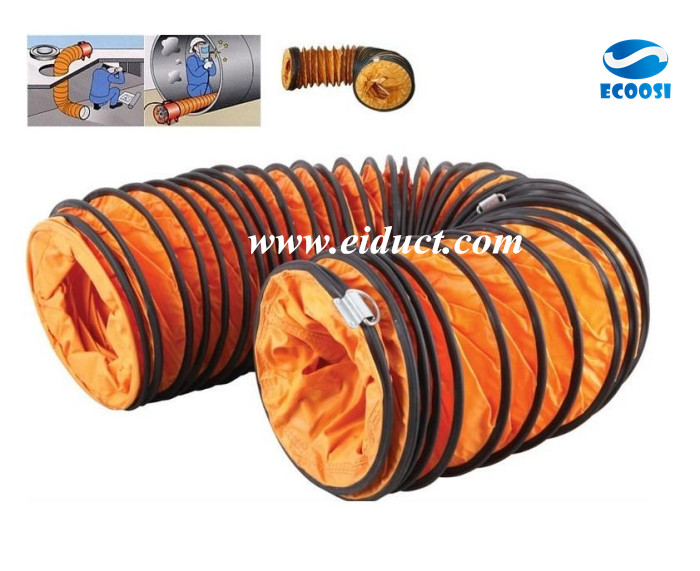 What is the advantages of Ecoosi industrial portable flexible PVC air duct hose?
Ecoosi industrial portable flexible PVC air duct hose is designed for portable air ventilator to move the air, this PVC portable flexible ducting hose is durable, and compressible. At the same time they are able to withstand the forces of open spaces. For jobs that require high levels of movement, it is also important to have a retractable hose for convenient transportation.
The benefits of our PVC portable flexible duct is no more obvious than when they are used in portable air conditioning units. Portable air conditioning, an increasingly popular type of home cooling system, is an affordable way to provide comfort to offices and home areas everywhere. These devices are some of the largest appliances of the portable flexible duct.
Ecoosi industrial ventilation fan duct hose is extremely flexible, the most important feature of the blower duct is flexibility. Without flexibility, it would be extremely difficult to carry a hose between places with air conditioning units.
Our PVC flexible duct has excellent flexibility, so you can carry it to the perfect place to connect the product to the air conditioning unit. The flexible material used to make the hose portable, provides portable compressible recycling and great compactness that allows you to easily move from one location to another.
Ecoosi flex industrial PVC power fan ventilation duct for air transfer constructed from strong flexible and reinforced pvc, this portable air transfer ducting size range from 100mm to 2000mm, standard length is 10 meter.
If you any interested or questions in our flexible blower PVC duct hose, please feel free to click contact us or through email: info@eiduct.com or Mobile(WhatsApp): 00-86-187-1155-3123, or our another website: DuctingHose.com we are always here to satisfy your requirement!