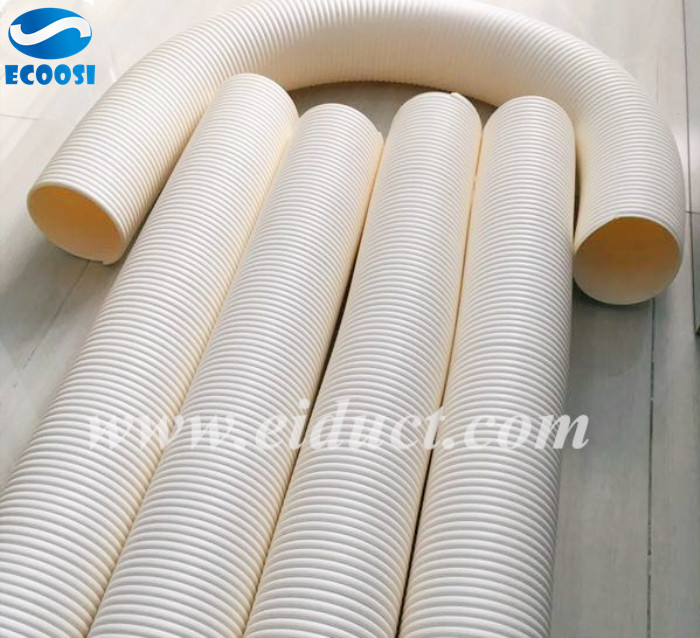 Interlock flexible ducting hose from Ecoosi Industrial Co., Ltd.
Ecoosi flexible hose - Interlock Ducting Hose semi-rigid duct is a 100% rigid self-supporting PVC duct with a ribbon-lock construction that is recommended for industrial air movement and fume control applications. The unique flex duct hose may be shaped and spliced together without the need for special tools and is a great option for both temporary and permanent installations alike.

Ecoosi interlock air duct hose also provides the ability to adjust the inside diameter by hand; the ID can be reduced or expanded by approximately 25% of the product's original ID. Its makes for a semi-rigid hose that is valued in applications that require constant flex of a hose (such as welding applications). The Interlocking is premier in the class of fume removal flex duct.

Ecoosi's PVC Interlock Duct Hose has a working temperature of -20 to +80 degrees Celsius, available in internal diameter sizes from 51 mm to 203 mm. This air duct hose is available in 5 meters lengths.

If you any interested or questions about our rigid PVC interlock air duct hose, please feel free to click contact us or email: info@eiduct.com or Mobile(WhatsApp): 00-86-187-1155-3123, or our other website: ductinghose.com, we are always here to satisfy your requirement!