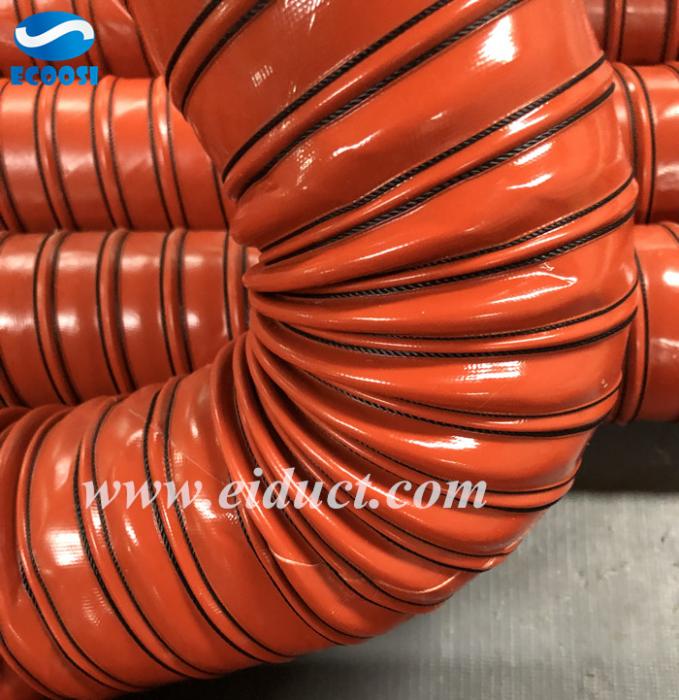 Ecoosi

brake cooling duct hose

is a high temp 2 ply silicone rubber coated fiberglass fabric and bronze plated steel spring wire helix air ducting hose with an external fiberglass cord support. This brake ducting hose is designed to direct air from front mounted air ducts to spindle ducts for brake cooling. This Silicone High Temperature Brake Air Ducting hose is designed for moving air from–70℃ to +310℃. This brake cooling ducting hose standard length is 4 meters. Ecoosi double layer silicone brake ducting hose is available in many different internal diameters (I.D.). range from 19mm to 305mm.
Ecoosi brake air duct hose is smooth inner wall for unrestricted flow. This silicone air ducting is lightweight and extremely flexible. It is ideal for close quarter applications where ducting has to snake around objects. Construction includes fiberglass cord with high temperature silicone rubber coated woven fiberglass fabric and bronze plated steel spring wire helix. Can be screwed together to form a continuous length. Ideal used for applications where high temperatures exist such as brake ducting.
Ecoosi brake cooling air duct hose lowers your brake temperature by routing ram-air to your brake rotor and caliper. Using this non-horsepower robbing methid has been universally accepted even with the parasitic drag increase. Hold off rotor cracks and crumbled/cracked brake pads due to overtemperature and keep your racing budget in check. Having the correct racing brake ducts with the appropriately sized brake cooling hose is one of the most economical brake improvements you can make.
Ecoosi Silicone Brake Ducting will keep your brakes cooler longer. This high temp flexible air intake hose/brake ducting. Manufactured from a double layer of specially formulated Silicone whilst the Bronze coated internal spring helps to maintain shape and prevent kinking. Then a second layer of silicone is layed in the inside to give a smoother bore than standard silicone ducting hose.
If you any interested in our high temp silicone brake cooling air duct hoses, please feel free to click contact us through email: info@eiduct.com or Mobile(WhatsApp): 00-86-187-1155-3123, or our other website: Ducting Hose to contact us, we are always here to satisfy your requirement!