What is silicone air ducting hose?Why this high temp hose is ideal for brake cooling?
Release time:2020-08-29 Hits: 【Print】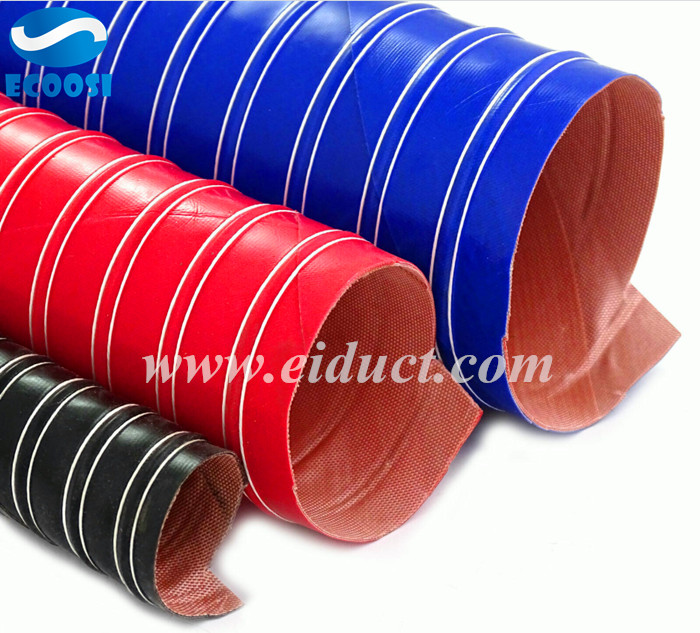 Ecoosi high temp silicone air duct hose is designed for use on low-pressure ducting applications such as brake or cockpit cooling. This flexible silicone duct hose has many different colors and is rated to temperatures up to 300 degrees, which makes it ideal for brake cooling. This high temp duct hose is extremely flexible and pliable, but a bronze coated spring-steel wire support helix prevents it from collapsing. The fiberglass fabric cover and fiberglass cord are both impregnated and coated with silicone rubber.
Ecoosi Silicone Heat Resistant Air Ducting Flexible Intake Hose is ideal for transmission hot and air, chemical fumes and industrial fumes, for printing machines, blowers and compressors, for exhausting gas, engine construction, engine Warming, aircraft construction and military construction. This silicone air duct hose has a spiral spring steel wire inside. Ecoosi high temp silicone air duct hose is very strong and has a double-layer structure, making it difficult to pierce or tear the flexible hose even with the most destructive abrasives. In addition, its longevity and resilience make silicone air duct hose ideal for long-term installations and sensitive areas, which may not be able to be repaired immediately.
Ecoosi Silicone Air Ducting Flexible Brake Cold Induction Intake Pipe Hose is ideal for brake cooling. For people who need constant and consistent airflow through its flexible duct, silicone air duct hose is a godsend. Their anti-kink properties prevent the high-temperature air duct hose material itself or other lengths of duct from twisting. This feature helps to further prevent the formation of clots and blockages within the length of your silicone air duct hose, making them fully capable of providing the required constant and reliable airflow. In addition, the anti-kink feature can ensure that your air duct hose has a long service life, but it can still maintain its normal operation.
If any interests in our flexible high temp silicone air duct hose, please feel free to contact us through email: info@eiduct.com or Mobile(WhatsApp): 00-86-187-1155-3123, or our another website: www.ductinghose.com to contact us, we are always here to satisfy your requirement!