Why Ecoosi Flexible PTFE Teflon High Temp Ducting Hose is extremely good resistance to chemicals fumes and gases?
Release time:2020-07-24 Hits: 【Print】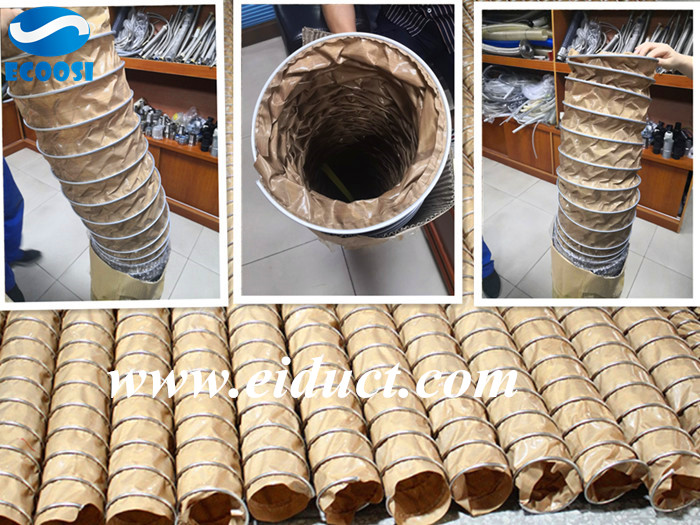 Ecoosi flexible PTFE high temp ducting hose is made by PTFE teflon coated glass fiber fabric with a metal strip that is formed into a clip. Teflon is known to have many benefits such as low friction, low resistance to liquids, and high corrosive resistance, making it a great selection for the ventilation of corrosive fumes. This high temp ducting is designed for hot and cold gases and dust, powder, fibers. This PTFE coated ducting is ideal used for chemical industry, such as: chemical vapors, vapor return hose at loading arm, paint steam, spray mist extraction. The metal clip acts as a wear-strip that protects the integrity of the high temp ducting and provides excellent resistance to external abrasion. This PTFE teflon flexible ducting is ideal for the ventilation of fumes and harsh chemicals.
Ecoosi flexible PTFE teflon high temp ducting hose is abrasion protection via external clamp profile and secure clamping of the wall within the clamp profile. It is highly flexible and compressible 10:1, very good heat resistance and anti-adhesive, also have good resistance to alkalis and acids. This flexible high temp ducting hose that operates at high and low temperatures. This teflon coated fiberglass fabric flexible ducting hose has a temperature range of –70℃ to +260℃. The Teflon coating allows the chemical resistant hose to be extremely resilient around corrosive fumes while the wear-strip provides protection from exterior elements.
Ecoosi flexible PTFE teflon high temp ducting hose standard length is 10 meter. Internal diameter sizes for this chemical resistant flexible ducting hose range from 75mm to 1000mm. This flexible high temperature ducting is ideal used in chemical fumes, it is also useful in other applications such as pollution control, pharmaceuticals, and high temperature applications.
If any interests in our flexible PTFE teflon high temp ducting hose, please feel free to contact us through email: info@eiduct.com or Mobile(WhatsApp): 00-86-187-1155-3123, or our another website: www.ductinghose.com to contact us, we are always here to satisfy your requirement!