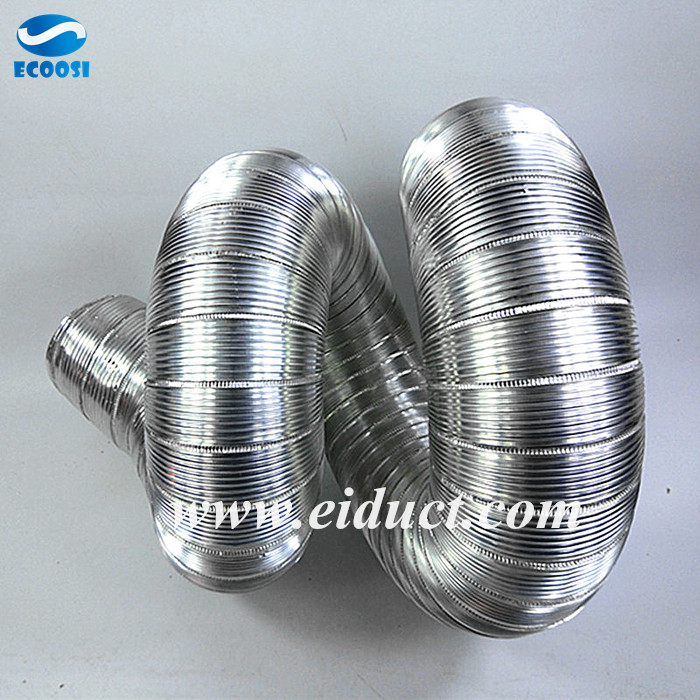 What is the application range of Ecoosi flexible Semi-rigid Aluminum air duct hose?
Ecoosi semi-rigid flexible aluminum duct hose is a lightweight, ductile, and durable ducting hose that is often used in flexible duct work ventilation systems. Aluminum is known for its excellent corrosion resistance that is created by a thin layer of aluminum oxide that resides on the surface layer of the aluminum. Ecoosi aluminum semi-rigid ducting hose is ideal for light and medium-duty air transfer applications that exceed normal temperatures. Aluminum flexible duct hose is one that industries everywhere rely on daily for their air handling, ventilation, and chemical transfer needs.
Ecoosi flex aluminum semi-rigid duct hose offer a more cost effective solution than other metal duct work materials like stainless steel. Aluminum flexible air duct hose is designed for light and medium-duty applications and feature excellent heat resistance. Our aluminum air duct hose could capable of working at temperatures as low as -70 degrees and can withstand high temperatures up to 250 degrees. Except to moderate heat resistance, our aluminum air duct hose is also resistant to the damaging and corrosive properties of many of today's harsh chemicals. These resistant properties make aluminum flex ducting hose a great choice for applications involving high temperature and chemical fumes. Our aluminum duct hose is ideal used for Air and fume transfer and removal, server room cooling, exhaust ventilations, oil mist removal, HVAC, pollution control.
Ecoosi flexible aluminum air ducting hose is also resistant to metal fatigue and weathering. This air ducting hose is also durable when the metal is subjected to cyclic loadings. Also, the aluminum duct hose can resist the damaging effects of wind and water when exposed to outdoor environment. Our semi-rigid flex aluminum ducting hose is a self-supporting flexible duct; in fact, in the field of flex ducting, aluminum hose is typically regarded as one of the most easily manipulated and installed materials. This allows you to bend the aluminum duct work and it will remain in place without additional support. This allows for the air duct hose to be used in applications that may otherwise require elbows or connectors, as well as jobs that demand a flexible duct hose. The lightweight nature of aluminum alloy enables the aluminum duct hose to be flexed more easily than similar metal products such as stainless steel ducting. Due to the self-supporting structure, lightweight design, and affordable nature of the ducting, this aluminum flexible duct is popular across many industries.
Ecoosi aluminum duct hose is often available to be purchase in 2 or 4 meter lengths. Generally, they are offered with plain cut ends. One other benefit of semi-rigid aluminum duct hose is that it has a variety of interior diameters (IDs) in which it can be purchased: sizes as low as 2 inches to as wide as 12 inches. It is safe to safe that, practically no matter what your ventilation or air handling situation, aluminum duct hose possesses an almost unmatched product variety and performance capability.
If any interests in our flexible semi-rigid aluminum ducting hose , please feel free to click contact us or through email: info@eiduct.com or Mobile(WhatsApp): 00-86-187-1155-3123, or our another website: www.ductinghose.com to contact us, we are always here to satisfy your requirement!