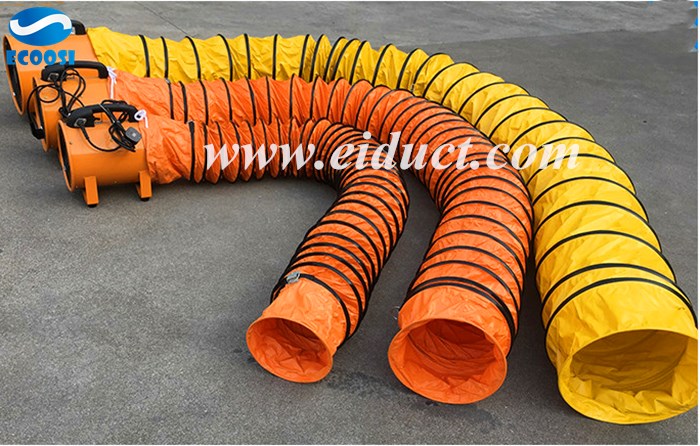 What is Industrial PVC Flexible Ventilation Ducting Hose?
Portable Industrial PVC Flexible Ventilation Ducting Hose
Brand: ECOOSI
Product Name: Portable Flexible Ducting, Ventilation Ducting, PVC Flexible Duct

Material: high-quality polyester fabric coated with PVC

Standard sizes:
1. The diameter from 100mm to 1500mm
2. The ducting thickness: 0.35mm
3. The temperature: -20 ℃ - +80 ℃
4. The flow rate: 28M/S

Characteristic:
1. From the plastic bone wrapped in the bone as a skeleton to the plastic folder for the ducting network;
2. The telescopic change turn, splicing free, compact, easy to carry;
3. Oleic acid, flame retardant, insulation;
4. The maximum pressure: 3000pa, the standard length: 5 meters to 30 meters

Applications:
Wind level ventilation air, dust, and smoke in addition to special. The ventilation hose is made of plastic bone wrapped with steel wire as the skeleton, with plastic clip mesh as the ducting body, the ducting body at every one meter has a metal ring, can be easily fixed duct, product bending, Lightweight, wear resistance, pressure, acid and alkali and flame retardant, insulation. With the ventilation equipment is widely used in the engine room, basement, tunnel, municipal engineering, underground cable maintenance, mechanical shipbuilding, fire ambulance, and another harsh working environment of the air supply and exhaust, It is an essential choice for portable pumping fan!

Main structure:
1. Independent thick tail ring
2. Ducting with a metal D-shaped buckle, so that the ducting head and ducting tail splice more firmly. Available for lifting, fixed duct needs.
3. PVC flame retardant mesh cloth
4. Black PVC plastic bone wrapped in high carbon steel wire, a variety of colors: red, yellow, silver, gray, black.
Wear-resistant, easy to bend, can be positive and negative pressure pumping wind
Material variety: flame retardant, anti-static, cold, oleic acid, anti-aging
5. Rope straight type (belt buckle speaker type) nozzle, convenient socket extension.

If you any interested or questions about our industrial portable flexible ventilation blower duct hose, please feel free to click contact us or email: info@eiduct.com or Mobile(WhatsApp): 00-86-187-1155-3123, or our other website: DuctingHose.com, we are always here to satisfy your requirement!