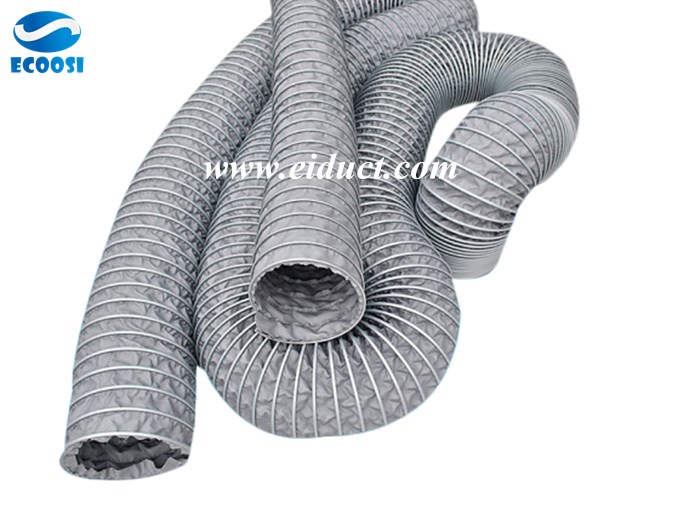 What is clamped high temperature flexible ducting hose?
Ecoosi clamped flex high temperature ducting hose is designed for long-term use and can withstand extreme high temperatures.
In high temperature applications, appropriate equipment must be provided to handle the heat of the equipment. In the absence of high temperature duct, extreme temperatures can cause flexible ducting permanent damage to the ventilation system, and derailment of your project.
Ecoosi flexible high temp duct is ideal for automotive, chimney, steam work and other extreme high temperature applications. This is not just a high temperature resistant ducting hose, but also flame retardant flexible hose, our high temperature ducting is ideal for applications where high temperature hose is placed near flammable materials and are suitable for operations with stringent fire safety regulations. Potential damage from unchecked fires should not be underestimated; even the slightest incidents can have serious consequences not only on your catheter system, but also on the overall infrastructure in a given area. In terms of fire protection, nothing is more important than proper precautions, mainly in high temperature ducting systems where you know extreme heat or friction.
Ecoosi high temp ducting is very flexible and easy transport, this flexible duct is highly compressible, easy to transport and store, and ducting that can be continuously bent without sacrificing airflow. In addition to the exhaust system, our high temp ducting hoses are used in chimneys, furnaces and welding. Specifically, the welding process produces a relatively large amount of chemicals, such as chromium. If left uncontrolled, inhaling these fumes can cause serious health problems. However, by installing high-temperature piping, you can significantly reduce the amount of welding fumes that exist during the welding process, significantly improving your overall safety and well-being. From light hot air to heavy duty thermochemical ventilation, our flexible high temperature ducting hose could meet your high temperature application needs.
If you any interested or questions about our flex clamped high temp duct hose, please feel free to click contact us or email: info@eiduct.com or Mobile(WhatsApp): 00-86-187-1155-3123, or our other website: DuctingHose.com, we are always here to satisfy your requirement!