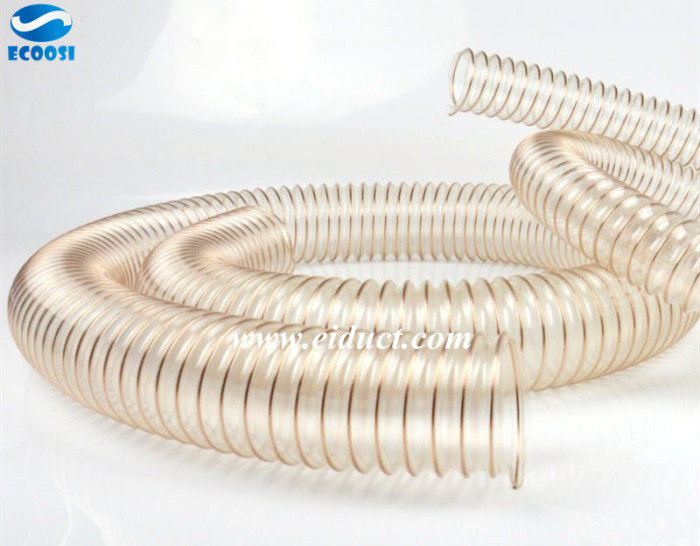 What is the application of Ecoosi PU flexible suction ventilation hose?
Ecoosi PU flexible suction ventilation hose is ideal for CNC woodworking machine to transfer the abrasive solids such as powder, fibers and wood chips. This PU flexible hose also could used for industrial air movement and fume control, extraction arms and dust collection equipment.
Ecoosi PU flex ventilation hose is made by high top quality ester base polyurethane with spring steel wire hose, the thickness of this PU suction hose is 0.6mm. The color of this PU ventilation hose is very transparent. Ecoosi PU flex duct hose is extremely abrasion-proof, this Polyurethane duct hose could handle working temperature range from 40 °C approx. to +90 °C approx, short time to +125 °C approx.
Ecoosi PU flexible suction hose standard length is 10 meter, size range from 25mm to 305mm.
If you any interested or questions in our flexible PU ventilation hose please feel free to click contact us or through email: info@eiduct.com or Mobile(WhatsApp): 00-86-187-1155-3123, or our another website: DuctingHose.com we are always here to satisfy your requirement!