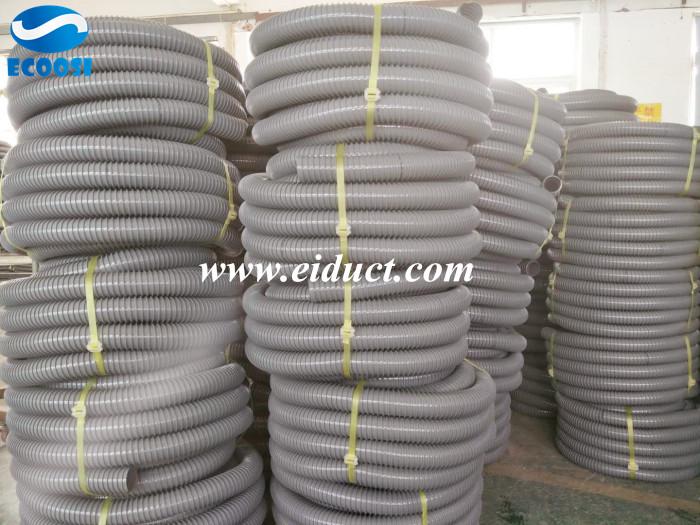 What is the advantages of PVC plastic hose, PVC industrial hose, PVC spiral hose?
Industrial PVC spiral plastic hoses are often used as suction and material handling hose for suctions of solids such as dust and fibres, gaseous and liquid media, industrial dust removal and suction equipment, hoses for air conditioning and ventilation systems, as wear protection hose.
Industrial PVC suction hose has smooth internal, good alkali metal and acid resistance, good chemical resistance, good UV and ozone resistance, small bending radius, no leakage of gas and liquid, this flexible PVC hose's wall is covered with a hard plastic spiral, and the inner wall of the PVC hose is smooth; This PVC industrial hose is made by soft PVC with rigid PVC spiral.
Ecoosi industrial PVC grey duct hose could handle working temperature range from approx. -5 °C to 80 °C; This PVC spiral hose standard color is grey, can be customized for other colors;
If you any interested or questions in our industrial flexible PVC plastic hose, please feel free to click contact us or through email: info@eiduct.com or Mobile(WhatsApp): 00-86-187-1155-3123, or our another website: DuctingHose.com we are always here to satisfy your requirement!