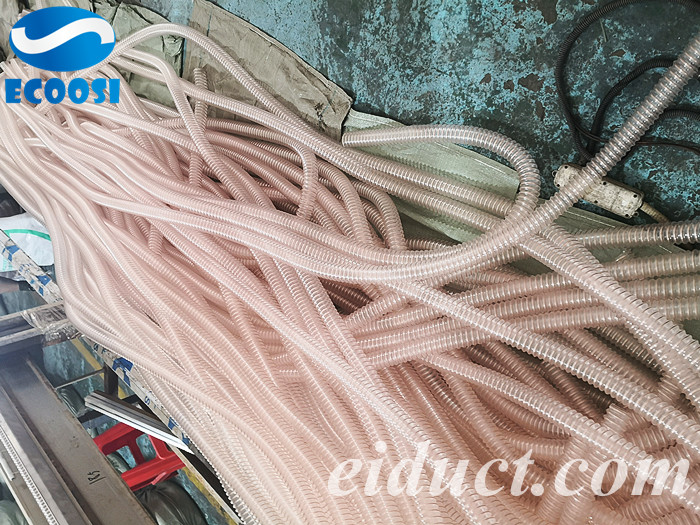 Industrial vacuum hose include PU vacuum hose and PVC vacuum hose
Industrial vacuum hose

commonly used in two materials, one is the PU material PU vacuum hose, the other is the PVC material PVC vacuum hose.
Here, the two different materials of the vacuum hose to do a comparison of their performance characteristics and uses.
1. PU vacuum hose made of PU transparent plastic, also known as polyurethane hose
Features: Wearable solids such as dust, powder, fiber, chip and particle, gas and liquid environments, dust and suction plants, industrial vacuum cleaners, paper and textile fibers.
Properties: antibacterial and hydrolysis, good chemical resistance, extreme wear resistance and the bottom copper wire to strengthen the hose strength, very resistant to high pressure, vacuum, and anti-compression.
Construction: a strong flexible copper-coated steel wire wrapped in the wall, the wall is a special top-grade polyether polyurethane, spiral: elastic wire, scalable.
Temperature range: -40 degrees Celsius to +125 degrees Celsius
2. PVC vacuum hose using transparent PVC materials, also known as PVC transparent steel wire helix hose
PVC vacuum hose temperature range: -20 degrees Celsius to 70 degrees Celsius, features: acid, chemical resistance, application: for powdery solids such as: dust, powder, fiber. Gas atmospheres such as steam and smoke, air conditioning and ventilation equipment.
Two kinds of materials, the difference between industrial vacuum hose which:
PU vacuum hose and PVC vacuum hose from the surface, the difference is not great, are embedded wire, but the use of performance, the two there is a huge difference. From the material point of view, PU material made of vacuum hose cleaner than PVC vacuum hose, PU hose is more transparent, PU vacuum hose coated copper wire and stainless steel wire for the two, more than PVC galvanized steel wire is more wearable, And PU suction hose steel wire than PVC vacuum hose to be more coarse, so greatly extend the life of the PU hose, PU dust hose is 7-10 times the useful life of PVC hose .
From the physical and chemical properties, PU vacuum hose, with pressure, wear resistance, high temperature performance, and PU vacuum hose in the minus 40 degrees will not harden, In the summer high temperature will not become soft, will not turn yellow, which are also PVC hose can not be compared.
If you any interested or questions about our industrial flexible PU or PVC vacuum hose, please feel free to click

contact us

or email: info@eiduct.com or Mobile(WhatsApp): 00-86-187-1155-3123, or our other website:

DuctingHose.com

, we are always here to satisfy your requirement!