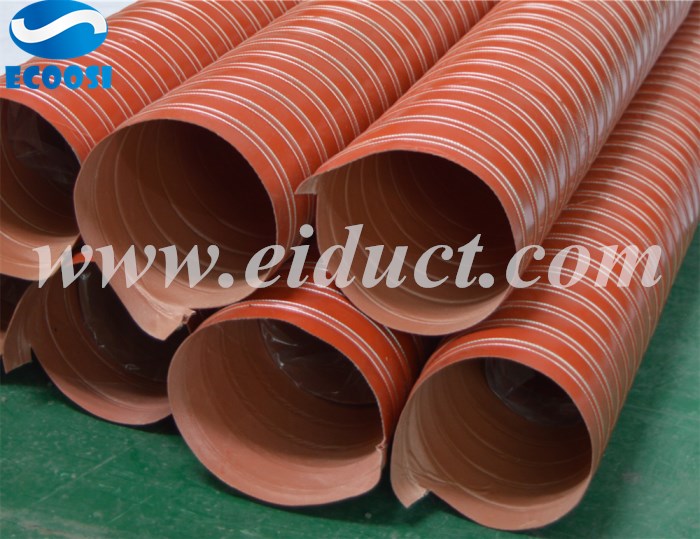 What is the application of Ecoosi red double layer silicone high temperature ducting hose?
Ecoosi red double layer high temperature silicone ducting hose has high temperature resistance, anti-corrosion, anti-aging performance, good elasticity and flexibility, and can be widely used in petroleum, chemical, cement, energy and other fields.
Ecoosi double layer heat resistant silicone air ducting has Anti-corrosion: Silicone rubber coated glass fiber cloth can be used as a pipeline, saving internal and external anti-corrosion layer, excellent anti-corrosion performance and high strength, it is an ideal anti-corrosion material.
Ecoosi silicone coated glass fiber fabirc duct hose has Flame retardant: Flame retardant conforms to DIN4102-B1 and is used in applications requiring flame retardancy. .
Ecoosi red two layer silicone high temp duct hose for hot air and cold air guiding, for granular drying in the plastic industry, dust removal and extraction plant, heater discharge, blast heater discharge and welding gas discharge, for exhaust body equipment, engine structure , heating engines, aircraft equipment and military equipment.
If any interests or questions in our flexible red 2 Ply silicone high temperature duct hose please feel free to click contact us , or through email: info@eiduct.com or Mobile(WhatsApp): 00-86-187-1155-3123, or our another website: Ducting Hose, we are always here to satisfy your requirement!