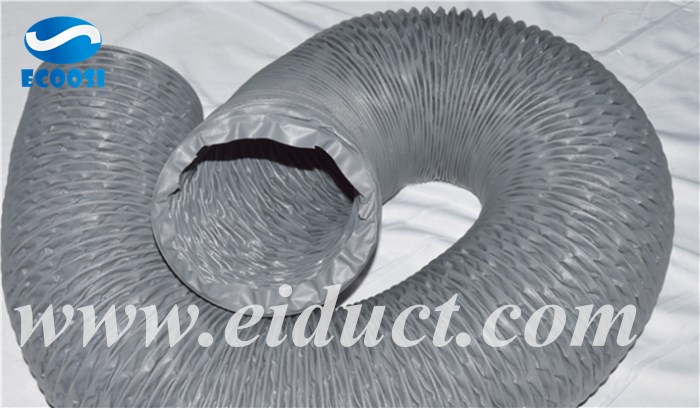 What is the applications of Ecoosi flexible fume exhaust PVC grey fabric ventilation duct hose?
The importance of welding fume exhaust
Welding fume exhaust flexible duct hose are important in applications that require industrial ventilation. Ventilation duct hose in industrial and commercial environments are necessary to prevent chemicals and workers from exposure to air, welding fumes, solvent vapors, oil mist, dust and other air pollutants. The fume exhaust duct hose allows for efficient local exhaust ventilation, which is more powerful in removing unwanted airborne materials from the environment. Ecoosi PVC grey nylon fabric duct hose can remove dust, air and chemical fumes.
Ecoosi PVC fabric ventilation hose
Ecoosi fume exhaust PVC flexible pvc vinyl vent duct hose is made by super quality PVC coated fabric with spring steel wire, this ventilation duct hose could handle working temperature range from –20℃ to +120℃. Ecoosi PVC flexible fabric duct hose is ideal used for Aerospace, Air Duct Cleaning, A/C Ventilation, Blower Hose, Cold Air Supply, Confined Space Ventilation, Fans and Blowers, Flame Retardant, Function Tent HVAC, HEPA, HVAC, Laser Engraving, Ventilation, Wave Pool Blowers.
Contact information
If any interests or questions in our flexible fume exhaust PVC grey nylon fabric air duct hose please feel free to click contact us, or through email: info@eiduct.com or Mobile(WhatsApp): 00-86-187-1155-3123, or our another website: Ducting Hose, we are always here to satisfy your requirement!