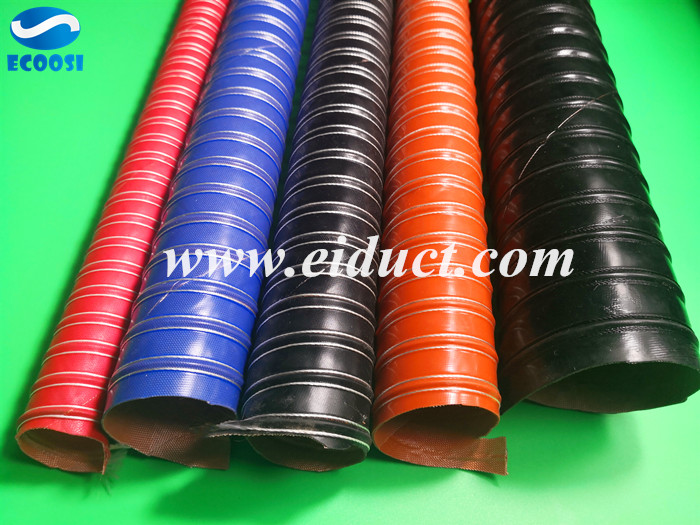 Different colors are available in Ecoosi flexible silicone 2 Ply air brake ducting hose, such as red, orange, blue, black.
Ecoosi flexible Silicone 2 Ply Air Ducting is a great Black Air Intake Hose that is ideal for brake cooling systems. This High-Temperature Silicone Ducting is a flexible, lightweight ducting capable of withstanding temperatures up to +310°C.
Ecoosi Silicone two layer Glass fibre fabric reinforced lined ducting, wire helix in bore visible bronze plated steel wire helix and tight pitch for a maximum flexibility cord flexible, light weight & good applications in high temperature and low pressure ranges. This 2-ply Silicone Rubber Air Duct Hose is popular for brake cooling ducts due to its high temperature capability.
Ecoosi double layer silicone air duct hose is flexible and pliable, but a bronze coated spring-steel wire support helix prevents it from collapsing. The fiberglass fabric cover and fiberglass cord are both impregnated and coated with silicone rubber. A second layer of silicone covers the inside of the hose to reduce turbulence. The 2-ply construction also withstands higher pressure and vacuum than Single-Ply Silicone Air Duct Hose, so this hose is popular as engine intake plumbing on normally-aspirated applications.
Ecoosi high temperature silicone duct hose is double wall hose stays straighter without sagging, resulting in smoother airflow with less need for tie wraps and less risk of rubbing on suspension components, or wearing through.
If you any interested or questions about our orange silicone flexible duct hose, please feel free to click contact us or email: info@eiduct.com or Mobile(WhatsApp): 00-86-187-1155-3123, or our other website: DuctingHose.com, we are always here to satisfy your requirement!