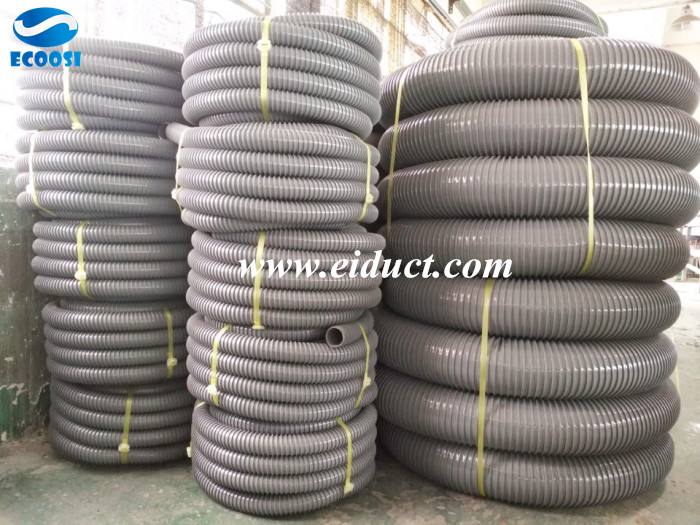 Why Ecoosi PVC plastic anti-shock suction hose is ideal for conveying water and oil for agriculture, engineering and irrigation?
Ecoosi PVC plastic anti-shock suction hose also called PVC plastic spiral hose, PVC grey duct hose. This flexible duct hose is made of high quality PVC resin material, and the reinforcement layer is embedded with hard plastic spiral skeleton. The inner walls is smooth, the bending radius is relatively small, and the negative pressure resistance is better without the addition of steel wire or polyester fiber. PVC grey suction hose is an ideal flexible hose for conveying water and oil for agriculture, engineering and irrigation. It is an excellent substitute for rubber hose and metal hose.
Ecoosi PVC grey duct hose used in urban life water supply, sewage, farm irrigation, coal mines, oil fields, marine equipment and other mechanical and electrical equipment Chemical gas, water, also used for water pump and air conditioning drainage. Particularly suitable; solids such as dust, powder, fiber, crumbs and granules; gaseous and liquid media, vacuum cleaners, conveyor systems, hair dryers and compressors, air conditioning and ventilation.
Ecoosi PVC anti-shock suction hose has smooth inside, retractable, good alkali metal and acid resistance, light weight, good elasticity, small bending radius, negative pressure resistance Good chemical resistance, good resistance to UV and ozone; no leakage of gas and liquid; This grey duct hose size range from 16mm to 400mm, could handle working temperature range from -20 ° C to +80 ° C.
If you any interested or questions in our industrial flexible PVC spiral hose, please feel free to click contact us or through email: info@eiduct.com or Mobile(WhatsApp): 00-86-187-1155-3123, or our another website: DuctingHose.com we are always here to satisfy your requirement!