Name:
Fabric Ducting
Brand:
ECOOSI
Hose materials:
PVC fabric coated with PVC
Helix:
Steel wire
Features:
Flame retardant
Features:
Tearing resistance
Features:
High tensile strength
Features:
Light weight
Features:
Highly flexible and compressible up to 10:1
Features:
Very cost effective
Features:
Retractability allows for convenient storage and easy transport in a fraction of its fully extended length
Temperature range:
–20℃ to +120℃
Standard length:
10 meters
Applications:
Aerospace, Air Duct Cleaning, A/C Ventilation, Blower Hose, Cold Air Supply, Confined Space Ventilation, Fans and Blowers, Flame Retardant, Function Tent HVAC, HEPA, HVAC, Laser Engraving, Ventilation, Wave Pool Blowers
Product Description
Ecoosi flexible ducting hose - Fabric Ducting hose is a flexible lightweight hose produced from durable coated polyester fabric. The fabric flexible duct hose can be used in a variety of industrial air movement and blower applications. Each fabric flexible duct hose has been reinforced with a spring steel wire helix for added strength and flexibility.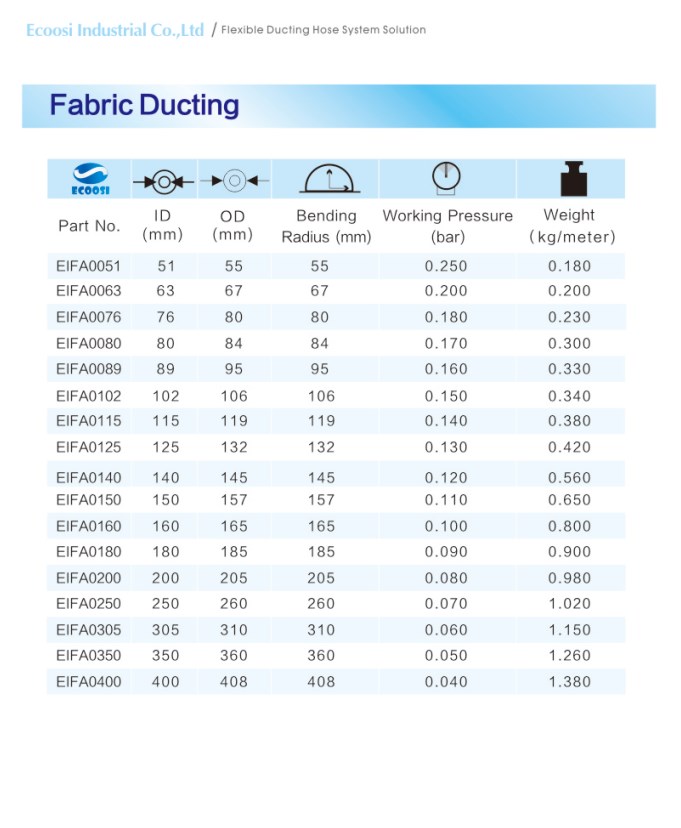 Ecoosi's Fabric Ducting hose is in 10 meters lengths, but its can be compressed down to as little as 1 meter. This advantages makes storage and transportation easier and more convenient. The fabric air transfer hose is made in a wide range of internal diameter sizes from 51 mm to 400 mm.
Ecoosi's Fabric Ducting hose is designed for volume air movement in indoor or outdoor applications. The Fabric Ducting lightweight hose is ideal for general air ventilation, mobile chillers, and light dust movement applications. Its versatile flex ducting hose has a working temperature range from -20 to + 120 degrees Celsius.