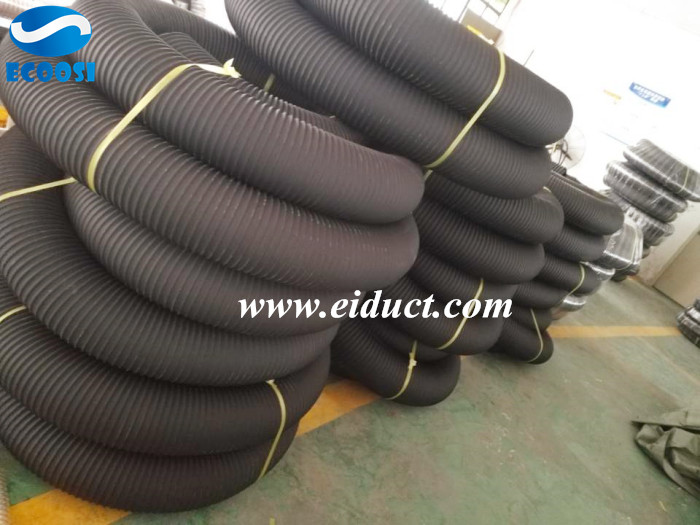 On 2018-12-28
By Joe Doe
In Art
With 34 Comments
What is the applications of Ecoosi flexible thermoplastic lightweight rubber duct hose?
Ecoosi flexible thermoplastic lightweight rubber duct hose is ideal for light-duty air and material handling applications. This flexible rubber exhaust duct hose is produced by thermoplastic rubber reinforced with a spring steel wire helix. Thermoplastic rubber is a sort of copolymers that possess both thermoplastic and elastomeric properties, it is produced by a mix of plastic and rubber. Ecoosi thermoplastic rubber duct hose has great chemical resistance and also has a longer life in extreme hot and cold environments over other industrial flexible duct hose. Ecoosi TPR flexible ducting have excellent UV resistance, excellent flexibility, resistance to microbial attack, minimal moisture absorption, and broad temperature operating range from –40℃ to +135℃ (short time to 150 degree)
Ecoosi flexible TPR exhaust ducting hose is reinforced with a spring steel wire helix that serves to provide protection and durability for the hose. This flexible TPR duct hose is an industrial duct that is extremely compressible, allowing for easy storage and installation in tight spaces.
Ecoosi flexible thermoplastic rubber duct hose size range from 25mm to 305mm, standard length is 10 meter. This flexible TPR duct hose is ideal used for various applications such as brake ducting, cab ventilation, cotton picking, flight simulators, pipe organs, and transmission cooling.
If any interests in our flexible thermoplastic lightweight rubber duct hose please feel free to contact us through email: info@eiduct.com or Mobile(WhatsApp): 00-86-136-5140-9056, we are always here to satisfy your requirement!