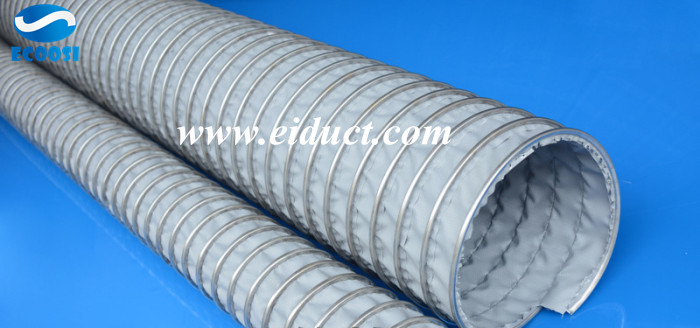 On 2018-10-10
By Joe Doe
In Art
With 34 Comments
High Temperature Flex Ducting Hose From Ecoosi Industrial Co., Ltd.
Ecoosi high temperature flex ducting hose is designed to transfer the heat of the equipment. Without the flexible high temperature ventilation duct hose, extreme high temperatures can cause permanent damage to flex duct hose, ventilation systems, and derail your project. Ecoosi offer a high temperature flex ducting hose ideal for long-term use and durability in high temperature environments.
Ecoosi high temperature flex ducting hose is made by Double-ply silicone coated fiberglass fabric with coated steel wire and metal strip acts as a wearstrip. This high temp flex ventilation duct hose could handle working temperature range –80℃ to +400℃. With such a wide temperature range, our high temperature ducting hose is great for automotive, chimney, steam work and other extreme high temperature applications. Ecoosi high temperature resistant flex duct hose also is a flame retardant duct hose. This high temperature flex hose size range from 38mm to 1200mm, standard length is 10 meter.
If any interests or questions in our high temperature flex ducting hose please feel free to contact us through email: info@eiduct.com or Mobile(WhatsApp): 00-86-136-5140-9056, we are always here to satisfy your requirement!